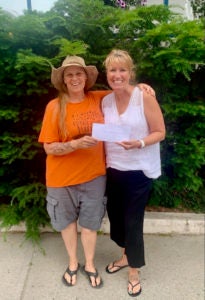 On June 11, CUPE local 748, who represents the support workers of School District 8, held a free community barbeque at Nelson's Lakeside Park. Despite the rainy weather, there was a good turnout and $500 was raised to donate to the Aimee Beaulieu Transition House. A big thank you to those who donated and those who volunteered, including members of CUPE local 339 (workers from the City of Nelson) who manned the grill.
Pictured is Kathy Centrone from CUPE 748 (right) presenting the cheque to the Aimee Beaulieu Transition House's Kim Strathopolous.
CUPE 748 is hosting a similar event in Creston on September 10 in Centennial Park with donations to the Creston Valley Gleaners Community Food Bank.